Gift Ideas - Send Individually Wrapped Cookies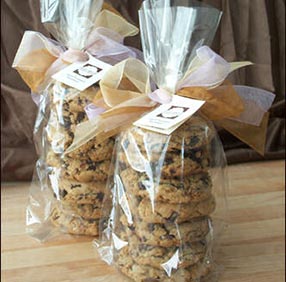 Cellophane cookie gift packs are available for special corporate or event orders in Oakville in sizes ranging from 1 to 12 Cookies
These are only available by special order, and depending on quantity please allow at least 3 days for preparation and delivery.
Available cookie flavours are chocolate chip, fudge and oatmeal raisin.
All bags come sealed with a sticker. If you a want ribbon, please add $0.35 / bag.
Please call 647-438-7772 to place your order.
$2.15 for 1 Cookie
$3.99 for 2 Cookies
$5.99 for3 Cookies
$7.99 for 4 Cookies
$9.99 for 6 Cookies
$11.99 for 7 Cookies
$13.99 for 8 Cookies
$15.99 for 9 Cookies
$17.99 for 11 Cookies
$19.99 for 12 Cookies
You can also send us an e-mail with your gift requirements and budget. We will reply with our recommendations on how to get the maximum benefit for your cookie order.
Click here to get back to main corporate ideas page.