Corporate Gift Ideas - Logo Shortbread Cookies
Make a real impact with corporate branded shortbread cookies with your company's logo printed on top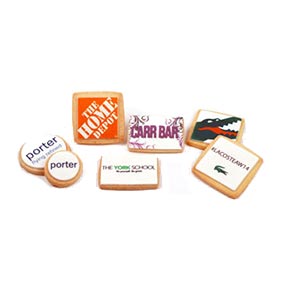 Print any image, design or logo directly onto our fondant-topped shortbread cookies. We do not use edible paper. Set-up charge $30.00, Subsequent photos $15.00.
Available in 2.75 inch (approximate) circles or squares, 2 inch x 3 inch rectangle or 3 inch wide heart. It is sealed with a sticker. If you want a heat seal that will add an extra 0.25 cents. If you want a ribbon and bow, that will add an extra 50 cents each.
The following are approximate costs. We will provide an individaul quote based on your project.
Under 300 will be $3.50 each
Between 301 and 1000 will be $3.00 each
Between 1000 and 2000 will be $2.50 each
Over 2000 will be $2.25 each
Please send us an e-mail with your photo gift requirements for your event and we will send you a quote.
Click here to get back to main corporate ideas page.